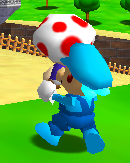 AwesomeSam is a character which comes to visit Peach, or Luigi. He has blue hair, and his appearence is almost entirely blue, except his face. He comes often, but nobody understands what he says, because he's mexican. His first line, was: "Hey Luigi, ¿cómo es la voluntad?" Which is wrong, and after saying that, Luigi reply to him normally. But in next bloopers, not even Luigi understand him.
Trivia
AwesomeSam actually speaks english in real life.
Ad blocker interference detected!
Wikia is a free-to-use site that makes money from advertising. We have a modified experience for viewers using ad blockers

Wikia is not accessible if you've made further modifications. Remove the custom ad blocker rule(s) and the page will load as expected.