Sorry for the mess.
This page is a stub.
You can help by expanding it (click the "Edit Button")!

The Bandit Gang are a group of Bandits that love to steal things from other people like Shy Guy's Toaster in Where's My Toaster?.
Appearances
Officer Shy Guy
The Curse of Evil Stars
Where's My Toaster?
Jumpin's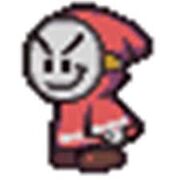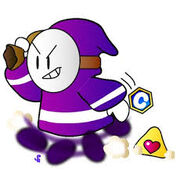 Demise
In Super Mario 64 Bloopers: The Videogame, DragonSoul532 sent the Bandit Gang to steal the Power Stars, which they succesfully did. Later, in SMG3's Tower, DragonSoul532 ordered them to guard the entrance. After failing, DragonSoul, seething and disappointed, decides to eliminate them as penalty. The Bandit Gang tried to aplogize, but where all beaten to death by DragonSoul532's hammer.
Trivia
They look very similar to Shy Guys, which is why Shy Guy occasionally teases them for looking like Shy Guys.
It is told that they stole Father Christmas' sack of gifts in a blooper by SMG4.
The Bandit Gang are the only Shy Guys to be particularly evil, next to The Shy Guy Jaeger (if not including Perdition Shy Guy (since it was Shy Guy when hypnotized and Old-Time ShyGuy, since the latter was a boss but was never seen doing anything evil).