Sorry for the mess.
This page is a stub.
You can help by expanding it (click the "Edit Button")!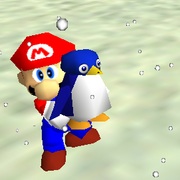 Billy is Shy Guy's right hand penguin... Well, that's not the point! Billy is a penguin that helps Shy Guy when needed. He first appeared in Shy Guy and the Toast Factory where Billy found Shy Guy and wanted to be best friends with him and Shy Guy agreed. He'll be in our hearts for years to come.
In Merry Benighted Yuletide, Billy came with Shy Guy to the North Pole and came out to face off the Bandit Gang and Bowser. Billy's final appearance was in Flying, where he teached Mario to fly.
In the Season 7 episode Dimensional Duo, it's revealed Billy was accidentally killed by a car running him over along with Shy Guy. 
Trivia
Occasionally, Billy goes to the world of Minecraft to play games with Steve.
Billy would also be considered Shy Guy's pet.
He is also possibly the first pet to mostly be with a main character.
Billy is the brother of Tuxie.
It is possible that Billy was the false penguin in the Super Mario 64 mission, "Li'l Penguin Lost" in Cool, Cool Mountain.
Billy is almost identical to Tuxie.
The creators have stated that the main reason why Shy Guy and Billy were killed was because they had no idea what their role could be in Season 7, they were overused and also that the creators had no further plans with them.
Appearances