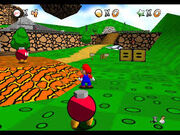 Bloopers Island
is a mysterious island Mario went to in order to save 
Crash Kandicoot
, who was captured by
MechMario
. After defeating MechMario and saving CK, they all leave Bloopers Island.
Levels
2-1: International Rain-Forest
2-2: Dinosaur Land
2-: VS Tankz
2-3: Radiant Ramp
2-4: Video Boondocks
2-: MechMario's Reprisal
Trivia
Bloopers Island is the only world in the game where Kuromames don't appear.
Ad blocker interference detected!
Wikia is a free-to-use site that makes money from advertising. We have a modified experience for viewers using ad blockers

Wikia is not accessible if you've made further modifications. Remove the custom ad blocker rule(s) and the page will load as expected.