Sorry for the mess.
This page is a stub.
You can help by expanding it (click the "Edit Button")!
"Stay off of my children !"

—
Bowser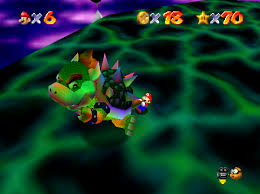 Bowser (also known as King Koopa or simply Koopa in Japan) is a big fat tortoise (or turtle) and the quaternary antagonist of the SM64 Bloopers. He has done some good and bad, which makes him neutral. He was the former main antagonist in Super Mario 64 Bloopers: Bowser's Ultimate Masterplan.
Appearances
Trivia
He was called King Koopa in The Super Mario Bros. Super Show, The Adventures of Super Mario Bros. 3 and Super Mario World. It's unknown why he's called that instead of Bowser.

Oddly, in the same shows, Bowser looks like a verdant dragon rather than his actual normal appearance.

He also has a grandmother as shown in the SuperMarioGlitchy4 bloopers, Cooking with Mario and Bowser and SM64 guides: Toadsworth's How to-Princess.
Gallery