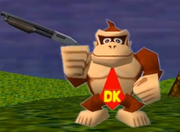 Donkey Kong's Treasure is a blooper of SM64. It involves Donkey Kong trying to protect his hoard of treasure from intruders.
Characters
Trivia
During the scenes where DK is in SM64's universe, his Mario Party 3 model is used. However, during scenes taking place in Donkey Kong 64, his model from that game is used.
This is the first appearance of Diddy Kong, Tiny Kong, Lanky Kong, Chunky Kong, and Cranky Kong in SM64 Bloopers.
Ad blocker interference detected!
Wikia is a free-to-use site that makes money from advertising. We have a modified experience for viewers using ad blockers

Wikia is not accessible if you've made further modifications. Remove the custom ad blocker rule(s) and the page will load as expected.