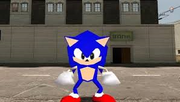 Sonic the Hedgehog is a hedgehog that likes to run and appears just as a cameo in most SM64 (Fanon) Bloopers, but had a major role in a few, like for example, Thwomp's Special Quiz where he was one of the participants.
Appearances
The Preface
Crazy Dance Party (4 cameos;2 speaking)
Thwomp's Special Quiz
Two Rapid Rivals
New Years Day (cameo)
Luigi Helps Out (cameo)
Screw the Ads! (cameo)
Tubbie Wonka: Factory Crash (cameo)
Luigi against Waluigi (cameo)
To Catch a Machinimist (cameo)
A New Teletubbie (cameo)
I'm with Stupid (cameo)
Crazy Dance Party (cameo)
Where's The Toaster? (cameo)
And There is X (cameo)
Gayness Overload (cameo)
I Believe I Can Fly
Run, Ruffman, Run
Return of the Tubbies (cameo)
Ssenmodnar 8 (cameo)
Steventures #4: Back to the Future (cameo)
Ad blocker interference detected!
Wikia is a free-to-use site that makes money from advertising. We have a modified experience for viewers using ad blockers

Wikia is not accessible if you've made further modifications. Remove the custom ad blocker rule(s) and the page will load as expected.