Sorry for the mess.
This page is a stub.
You can help by expanding it (click the "Edit Button")!
"
Your
decease will be a severe spank in the YouTube world.
"
—
SuperMarioGlitchy3
"Well...I like this girl...her name is...um..."

—
SMG3 trying to get advice from a love expert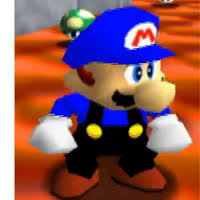 SuperMarioGlitchy3 (or SMG3 for short) is the rival of smg4 and the secondary main antagonist. He appears in some of smg4's bloopers, he did some good and bad, making him neutral. He also appeard in fanon bloopers, portraying the role of main antagonist, along with DragonSoul532 and Bowser.
In Super Mario 128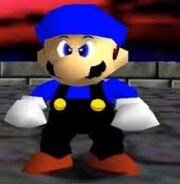 SuperMarioGlitchy3 had a pretty major role at Super Mario 128.
SuperMarioGlitchy3 first appears giving orders to the Fighting Alloy Team, giving the impression that he was the main antagonist. This was, however, to hide DragonSoul's presence. SMG3 fought the heroes when they reached his tower. After being defeated by TheThomas5252, he turns into Negative SMG3, the transformation's narcotic energy field causing Thomas to be off.
Luigi and MejiaCantilloGustavo immediately fight Negative SMG3 and defeat him, at which point he dissapears. SMG3 reappears in the ending sequence and credits, appearing to be unharmed.
SMG3 also appears in Legend of the Star Spirits, another SM64 Bloopers Movie, and it's novelization.
SMG3 appeared in almost all SM64B games except for New Super Mario Bros. X and Crash Kandicoot.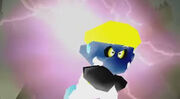 Trivia