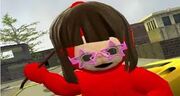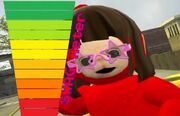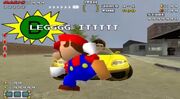 SwagTubbie is a character appearing in some of the bloopers.
Appearances
U Know?
The Rise of Swag Master
Surfing 377
Return of the Tubbies
The Herobrine Strikes Back (cameo)
Tubbie Wonka: Factory Crash (mentioned)
Various others
Trivia
Some characters like to make fun of her.
Occasionally, SMG4 calls her "weirder than Mario".
In Surfing 377, she appears surfing a ray, riding on a Cheep Cheep and sliding down a waterfall.
Apparently, Mario and SwagTubbie happen to be rivals, similar to the ones on Pokemon.
SwagTubbie is the first female Teletubby in the SM64 (Fanon) bloopers.
SwagTubbie is considered as her Swag Meter over 9000 cause of her glasses.
SwagTubbie is in love with Tubbie Wonka, as mentioned by Tubbie Wonka in the blooper, Tubbie Wonka: Factory Crash.
In Planet of the Teletubbies, SwagTubbie took Mario's spaghetti, just like how Mario took her glasses in the Smg4 blooper, Retarded64: Mario Simulator.
Over 9000 is a famous line from Dragon Ball Z.
In some episodes, SwagTubbie is referred to as male. This is a goof becuase SwagTubbie is female.