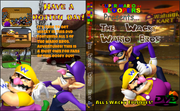 The Wacky Wario Bros. is a DVD containing the first 5 episodes of SuperMarioGlitchy4's The Wacky Wario Bros. series. The DVD was released in North America only.
Episodes
The following episodes are shown on this DVD.
The Welcome Invitation (2013; Wario and Waluigi try to enter Princess Peach's Castle, but are unsuccessful)
Wario's Treasure Hunting Time (2013; Wario and Waluigi use an old map to find buried treasure)
The Winning Ticket (2014; the Wario Bros. win a lottery ticket and attempt to cash it in)
Money Mayhem (2014; after stealing a briefcase full of money, our anti-heroes are living large...or so they think)
Golfing for Gold (2015; the Wario Bros. enter a golf tournament)
Ad blocker interference detected!
Wikia is a free-to-use site that makes money from advertising. We have a modified experience for viewers using ad blockers

Wikia is not accessible if you've made further modifications. Remove the custom ad blocker rule(s) and the page will load as expected.