Crash Kandicoot Universe
The Toadrink is a 'beer' that Toad made to attract people to his channel, He succeeds, but the truth is, it doesn't exist. People now chase Toad for the drink, which was never found. Later, Toad and CK are forced to make it, but using alcohol and in it. CK drinks it, and appears drunk and fakes his death, so people go away.
The Commercial in Toad's channel shows people going crazy for it. In the video, it had more than 1000 views, but actually (IRL) it only have a few.
Trivia
Most of the people chasing it were only black suited people.
Astall appears.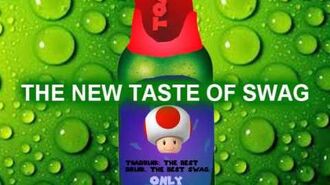 Fanon Universe
Toadrink in fanon history is a non-alcoholic, anesthetizing drink used in abductions.
It's used by SMG3 and DragonSoul532.
Ad blocker interference detected!
Wikia is a free-to-use site that makes money from advertising. We have a modified experience for viewers using ad blockers

Wikia is not accessible if you've made further modifications. Remove the custom ad blocker rule(s) and the page will load as expected.