Sorry for the mess.
This page is a stub.
You can help by expanding it (click the "Edit Button")!
The Tubby Custard Salesman is a Teletubbie that sells Tubby Custard to all of the residents in the Mushroom Kingdom.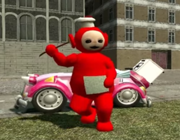 Appearances
Trivia
He didn't really appear in Shy Guy and the Toast Factory, but was once mentioned by Steve.
It is unknown what his real name is.
In a deleted scene in Planet of the Teletubbies, he was to take all of Mario's spaghetti away and hide it in his car and Mario battled the Tubby Custard Salesman for the spaghetti and won.

This scene, however, was instead put on Shy Guy's Summer Vacation.

He is seen at the Mushroom Kingdom celebration party near the end of The Super Mario 64 Movie: Legend of the Star Spirits.
In Planet of the Teletubbies, his name (The Tubby Custard Salesman) was never mentioned by other characters.
He is also called Custard Tubby.